The Sentry Post Snack Bar
The Sentry Post Snack Bar has been under the ownership of John Robinson since 2010 and both he and his staff ensure a warm and friendly welcome.
Based inside the Waddington Aircraft Viewing Enclosure, they are located on the eastern side of R.A.F Waddington on the A15 opposite Vulcan XM607 and have 140 spacious car parking spaces, including facilities for the disabled.
The Sentry Post Snack Bar offers a superb range of hot and cold foods and drinks and has a well stocked gift shop selling military based merchandise..
Come along and enjoy a break whilst watching the aircraft take off and land.
RAF Waddington is home to the E-3D Sentry AEW.1, Shadow R.1 and Sentinel R1 aircraft, which do not generally train at low altitude. However, from time to time the station and surrounding area will experience increased noise levels due to training taking place over the airfield or as a result of transiting fast jets or helicopters, which do practice low flying, so many different aircraft can be viewed.
Waddington Aircraft Viewing Enclosure Where you get good food and meet great people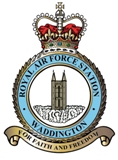 The station badge depicts Lincoln Cathedral rising through the clouds.
Royal Air Force Waddington (RAF Waddington) (IATA: WTN, ICAO: EGXW) is a Royal Air Force station located 4.2 miles (6.8 km) south of Lincoln, Lincolnshire and 13.3 miles (21.4 km) north east of Newark-on-Trent, Nottinghamshire, England.
RAF Waddington is the UK hub of intelligence, surveillance, target acquisition and reconnaissance, supporting national and NATO operations. We use airborne intelligence systems to achieve our mission. These are the E-3D Sentry and Sentinel R1. Our area of expertise is known collectively as ISTAR. The role of ISTAR is to provide an electronic 'eye in the sky' to gather information. Information from our aircraft sensors is then processed into useful knowledge and transmitted to those who need it in a timely fashion. Ultimately, ISTAR improves a military commander's awareness of what is happening on the ground or in the air, allowing him to formulate sound plans in an operational environment. It is a powerful tool, indispensable when conducting modern day operations.
5 (AC) Sqn - Number V (Army Cooperation) Squad­ron was reformed on 1st April 2004 at RAF Waddington, marking the beginning of a new era in the world of military Intelligence, Surveillance and Reconnaissance (ISR) for the Squadron. The squadron's role is to operate the Airborne Stand-Off Radar (ASTOR) System, which consists of five modified Bombardier Global Express aircraft and eight Ground Stations. In RAF service, the aircraft type is known as the Sentinel R Mk 1, with the R acknowledging its Reconnaissance pedigree.
8 Sqn - With over 100 aircrew 8 Squadron are one of the largest squadrons in today's Royal Air Force. They were also the first operational squadron to fly the Boeing E-3D AWACS aircraft, moving down from RAF Lossiemouth where they previously flew the Avro Shackleton AEW Mk2.
13 Sqn - No 13 Squadron was formed at Gosport on 10 January 1915. Badge: In front of a dagger, a lynx's head affrontee. The Squadron had used the dagger for some time, the lynx's head indicating vigilance. 13 Squadron disbanded on 1 June 2011 and stood up at RAF Waddington on 26th October 2012 as the first UK based Reaper Squadron.The squadron undertook its first sortie on 24 April 2013.
14 Sqn - No 14 Squadron formed at Shoreham on 3 February 1915 and was disbanded on the 1st of June 2011. It was agreed that 14 Squadron's numberplate should be passed to a new unit in the Intelligence, Surveillance, Target Acquisition and Reconnaissance (ISTAR) role. The unit has been operating as part of 5 Squadron at RAF Waddington. The new 14 Squadron, operates the Beechcraft Shadow R-1.
39 Sqn - No 39 Sqn was reformed on 1 Jan 07 at Creech Air Force Base in Nevada two years ago to operate RAF Reaper aircraft alongside USAF squadrons. Reaper provides real-time video imagery to ground commanders, and has the capability to engage ground targets if required. 39 Squadron trains and operates alongside USAF counterparts as part of the Combined Joint Predator Task Force. Although 39 Squadron is an RAF squadron, the unit includes personnel from the Royal Navy, Royal Marines and the British Army.
51 Sqn - Number 51 Squadron formed at Thetford, Norfolk, on 15 May 1916. The unit operated as a Special Duties squadron in Signals Command flying Comets and a variety of Canberras on surveillance flights from Wyton until 1974 when the Comets were replaced by a specialised version of the Nimrod, the R1. The Canberras were finally retired during 1976. Now based at Waddington, the Squadron continuing its highly specialised task now flying the RC-135 Airseeker
54(R) SqnThe present role for 54(R) Squadron reflects the changes taking place within the RAF as a whole. As a training unit, 54 Squadron is designated 54(Reserve) Squadron, on reformation, instructional staff from the 23 Squadron Sentry Training Flight,51 Squadron, 5 (Army Co-operation) Squadron and the existing Mission Simulator Flight amalgamated to form the new Squadron, thus enabling 54(R) to train personnel to operate 3 of the ISTAR platforms currently based at RAF Waddington. Students are trained to Limited Combat Ready (LCR) status before being posted to 5(AC), 8 or 51 Squadrons. Furthermore,the instructional staffs maintain their Combat Ready categories and regularly undertake deployments to operational theatres to augment the front-line Squadrons. The RAF Waddington Standardisation Unit is another key element of 54(R) Sqn; undertaking evaluation of the standard of operation of all ISTAR platforms,including the REAPER Remotely Piloted Air System currently based at Creech AFB, USA. The standarisation role is vital to both the safe operation and the tactical employment of these assets. 54(R) Sqn instructors also deliver the Qualified Weapons Instructor Intelligence, Surveillance and Reconnaissance (QWI ISR) course. A recent initiative which takes specialists from the broad spectrum of ISR platforms and the Direct Process and Disseminate arena;and trains them to operate as ISR Subject Matter Experts for the Operational Theatre and training of their peers.
54(R) Sqn- 56(Reserve) Squadron is the Air Command and Control, Intelligence, Surveillance and Reconnaissance Test Evaluation Squadron, part of the Air Warfare Centre, based at RAF Waddington in Lincolnshire. On 18 April 2008 No 56(R) Sqn disbanded as the F3 OCU. At the disbandment parade the number plate was passed to the Air C2 ISR Test and Evaluation Squadron based at RAF Waddington. This new role for the squadron keeps it at the forefront of operations, contributing to the operational development and optimization of the UK's joint Air C2 and ISR capabilities through robust Test and Evaluation. The Phoenix rises once again!

E-3D Sentry-The Sentry's roles include air and sea surveillance, airborne command and control, and weapons control. The aircraft's mission systems can separate, manage and display targets individually on situation displays within the aircraft, or it can transmit the information to ground-based and ship-based units using a wide variety of digital data links. The E-3D also operates as an extensive communications platform.

Sentinel R-1- The Sentinel R1 is the RAF's only long-range wide area battlefield surveillance asset, providing critical intelligence and target tracking information to British and Coalition forces.

Sentinel R-1- Variants of the RC-135 have been in service with the United States Air Force (USAF) since the 1960s, forming the backbone the United States airborne intelligence collection capability.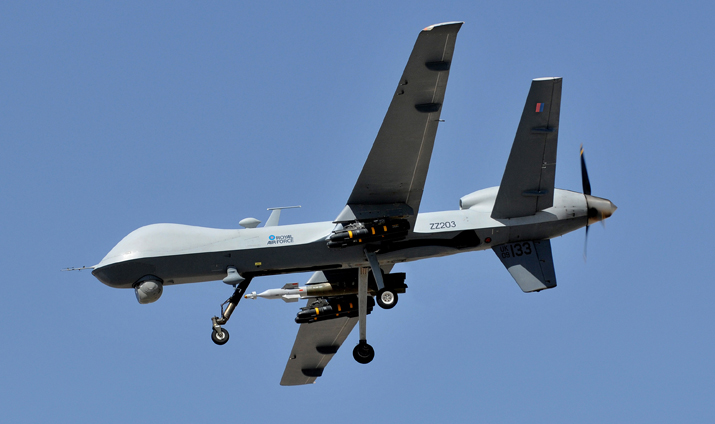 Reaper MQ9A RPAS - The Reaper is a medium altitude long endurance (MALE) Remotely Piloted aircraft designed for Intelligence, Surveillance and Reconnaissance (ISR) and if required, ground-attack missions.

Shadow R-1 - The Beechcraft Shadow R1 aircraft of 14 Squadron, RAF Waddington, is part of the Intelligence, Surveillance, Target Acquisition and Reconnaissance (ISTAR) group of systems.